Your current Language is:
URL: lapuntaretejo.reg/home
Welcome to the national website of Lapunto!
Our nation aspires to summon the best of humanity's potential by refusing to accept the traditionally applied imaginary divisions of race. We are loyal to the truth of humanity's one-ness all across Orbis. Lapunto sees all the world's people as it's own, so any who declare allegiance to our nation's worldview is capable of becoming a Puntan. We do not and must not discriminate, because as said in our national motto, "Our separation would be our death." However, for those who want to live in Lapunto, we do have a very specific rule:
National Map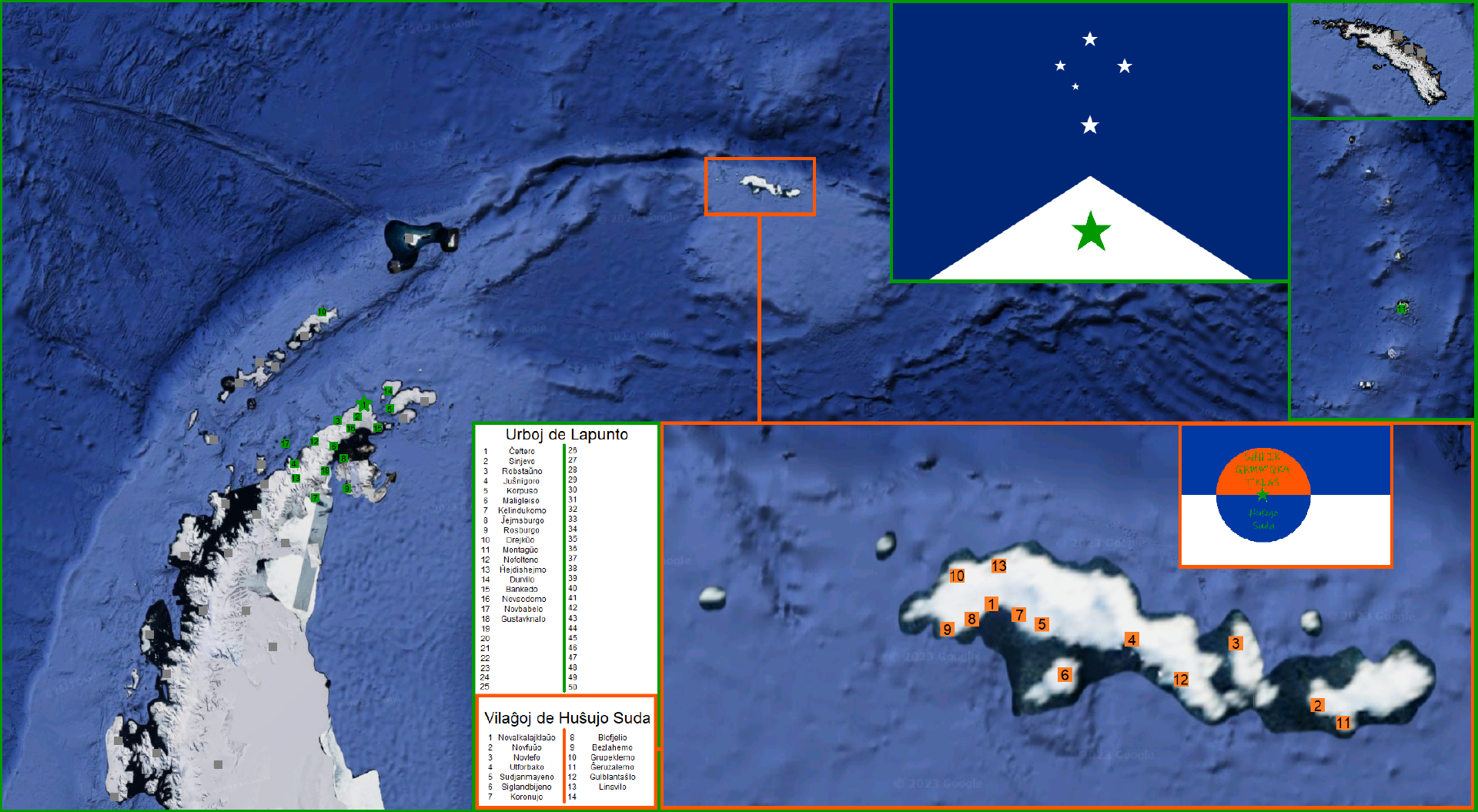 Domestic Information
Punterneto Mobile and Internet Provider
Website of the Puntan Autonomy of Huŝujo Suda
Foreign Information
Global Economic National Defense Treaty Website
National Alliance History
North Atlantic Treaty Organization (~ 25 October - Late December 2021)
United Nations (29 December 2021 - 12 Febuary 2022)
The Coven (14 Febuary 2022 - Current)
Timekeeping
La Punta follows the Day-Month-Year date format for dates, and the 24 hour clock for times. La Punta's time zone is UTC-3. Because of La Punta's location in the far south, there is an extreme fluctuation in the length of days over the course of a year. The longest Day of the year lasts from 1:30 to 22:00, while the shortest day of the year lasts from 9:30 to 14:00. La Punta does not follow daylight savings.
The Puntan Pledge of Allegiance
"Mi fidelecos la flago de mia nacio, kiu estas nedividebla, kaj simile, mia koro estas nedividebla de la nacio."
Misc. Information
National HDI: 0.853 (Equivalent to Hungary)
National Standard Outlet: Type C
National Flower: Canelo (drimys winteri) and the story of "La Fina Floro"
National Fish: Bald Notothen (Pagothenia borchgrevinki)
Tourism Slogan: "Cold Air, Warm Welcomes"
National Dish: Caldo de Pescado
National Emergency Alert Broadcast Sound:
National Seal
National Countryball, Courtesy of Umberto I of Cilesia
Roleplay Military System
If you are writing a bulletin reffering to a military conflict with my country, I would prefer you follow this system to most accurately represent Lapunto's stated advantages and disadvantages. I have given myself debuffs to ensure this remains reasonably fair. This will only however work if you recognize it. I will recognize my roleplay air force to be the same as (the size of my in-game number of planes). I will recognize my roleplay navy to be (the size of my in-game number of ships) times (1.5) .  In return, I will recognize my roleplay army to be 35% of (the size of my in-game number of soldiers) with a further reduction of the tank and artilery force to 20% of (the size of the in-game army's number of tanks). I will also give my roleplay military a missile defense system capable of protecting cities from missiles standard and nuclear with 80% effectiveness, and military installations with 50%. Attacks on military installations will be met with equal response, and attacks on population centers wil be met with a twice as severe response. The roleplay army will preform worse in warm and flat terrain, and more effectively in cold and mountanious terrain.