Welcome to the Federation of Knox, an absolute monarchy ruled by King Jacob Knox.
King Knox appoints his government on the basis of merit and loyalty. Those who are good at what they do and loyal to the Crown receive rewards. The disloyal are disposed of, and those who do mediocre work are relegated to the lower, working classes of society.
The Federation of Knox is a peaceful nation of various peoples, both natives and those who migrate to the country in search of a better life. Do not be fooled, however, as King Knox is swift to take action in service of his allies and is more than willing to take on a foe who so thinks they may attack his nation.
Long live the Federation! Long live King Knox!
Long live Aurora!!
Learn more about the Federation of Knox here.
Awards & Accolades
Aurora Best New Government Member - 2021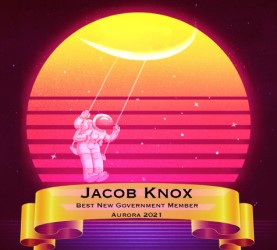 Badge made by Go0se
Exemplary Military Service in GW 24 - 2022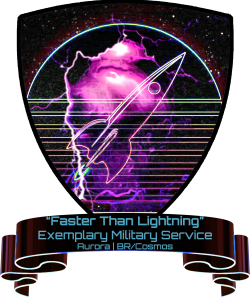 Badge made by Go0se
HISTORY
United Federation of Canerica
Suprevice President (Second in Command)
11/08/2020 - 03/02/2021
[Disbanded; now UNC]
Member
03/02/2021 - Present
Propaganda Bureau Officer (Low Gov)
03/23/2021 - 04/04/2021

Propaganda Bureau Service Coordinator (Mid Gov)
04/04/2021 - 09/16/2021

Military Affairs Service Coordinator (Mid Gov)
09/16/2021 - 01/21/2022
Head of Academy Guard
01/10/2022 - 01/21/2022

Chairman of Military Affairs (High Gov)
01/21/2022 - 07/16/2022
Third in Command
03/16/2022 - 03/30/2022
Advisor
07/16/2022 - Present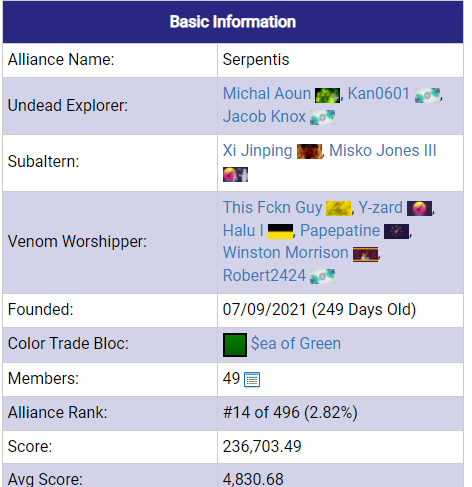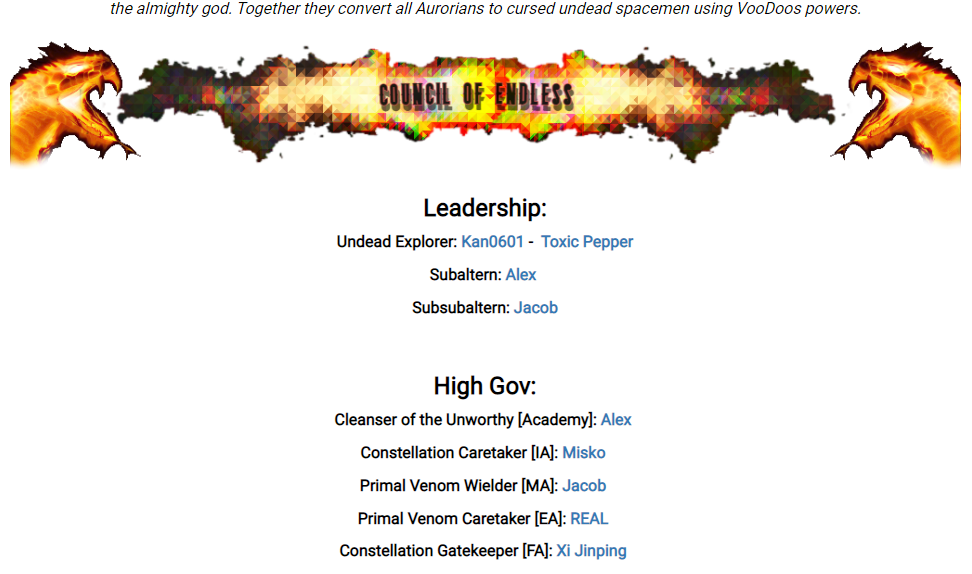 The Official Slogan of the Federation
Aurora MA Head Era

Aurora Era

Slogans by Jacob Knox, Banner Designs by Rainbow
MILITARY INVOLVEMENT
Fought/Coordinated for United Federation of Canerica
The Nova Roma Crisis
03/02/2021
~ net unknown ~
Fought/Coordinated for Aurora/Serpentis
03/02/2021 - 03/17/2021
~ net unknown ~
04/15/2021 - 04/16/2021
~ $4.8m net ~
05/24/2021 - 06/13/2021
~ -$141.02m net ~
09/19/2021 - 09/30/2021
~ no net; coordinated ~
12/11/2021 - 12/19/2021
~ $729.71m (CTOwned) / $1.112b (Locutus) net ~
12/19/2021 - 12/31/2021
~ $178.93m net (CTOwned) ~
05/20/2022 - 06/11/2022
~ $481.9m net (CTOwned) / $876.91m net (Locutus) ~
11/11/2022 - 01/04/2023
~ $15.4m net (CTOwned) / $234.85m net (Locutus) ~
Coven's Last Banzai
04/15/2023 - 05/06/2023
~ $91m net (CTOwned) ~
World VS Aurora
04/25/2023 - 05/06/2023
~ - $366m net (CTOwned) ~
04/25/2023 - 05/06/2023
~ $761.8m net (CTOwned) ~
SPECIAL THANKS
Joros Corinsol for being a good person and friend
Rainbowgeist for being an awesome person
Y-zard for helping me learn more about foreign affairs
George Putin for helping me learn more about internal affairs
All of Aurora for giving me an awesome home when things got tough
Personal DNR List
Joros Corinsol & his alliance
RANDOM FACTS
Facts as of 03/20/2023
Federation of Knox is currently:
3,579th oldest nation in Orbis (founded 09/29/2020)
Between 1,298th and 1,423rd most cities in Orbis (c26)
1,102nd in score (4,875.00)
Between 3,132nd and 3,168th in alliance seniority (316 days)