Out of the ashes of brutality our nation arose, to the ashes of war shall the rest of the world witness our might.
Consecrated by the fallout of the Caliphs, the Armenians relegated themselves into becoming the true protectors of the Eastern-most christians, by the grace of the holiest pope of Alexandria, the Armenian King Tacr received the title of Shahhanshah, though most refer to him as Kaysr, though he has no wish to contest the title of eastern roman emperor.
Tacr I, rocked by nightmares and dreams of the future of his nation by the hands of barbarians, seeks to expand his nation eastwards, to give the Armenians a homeland worthy of a major power.
Flag Standardization and Meaning: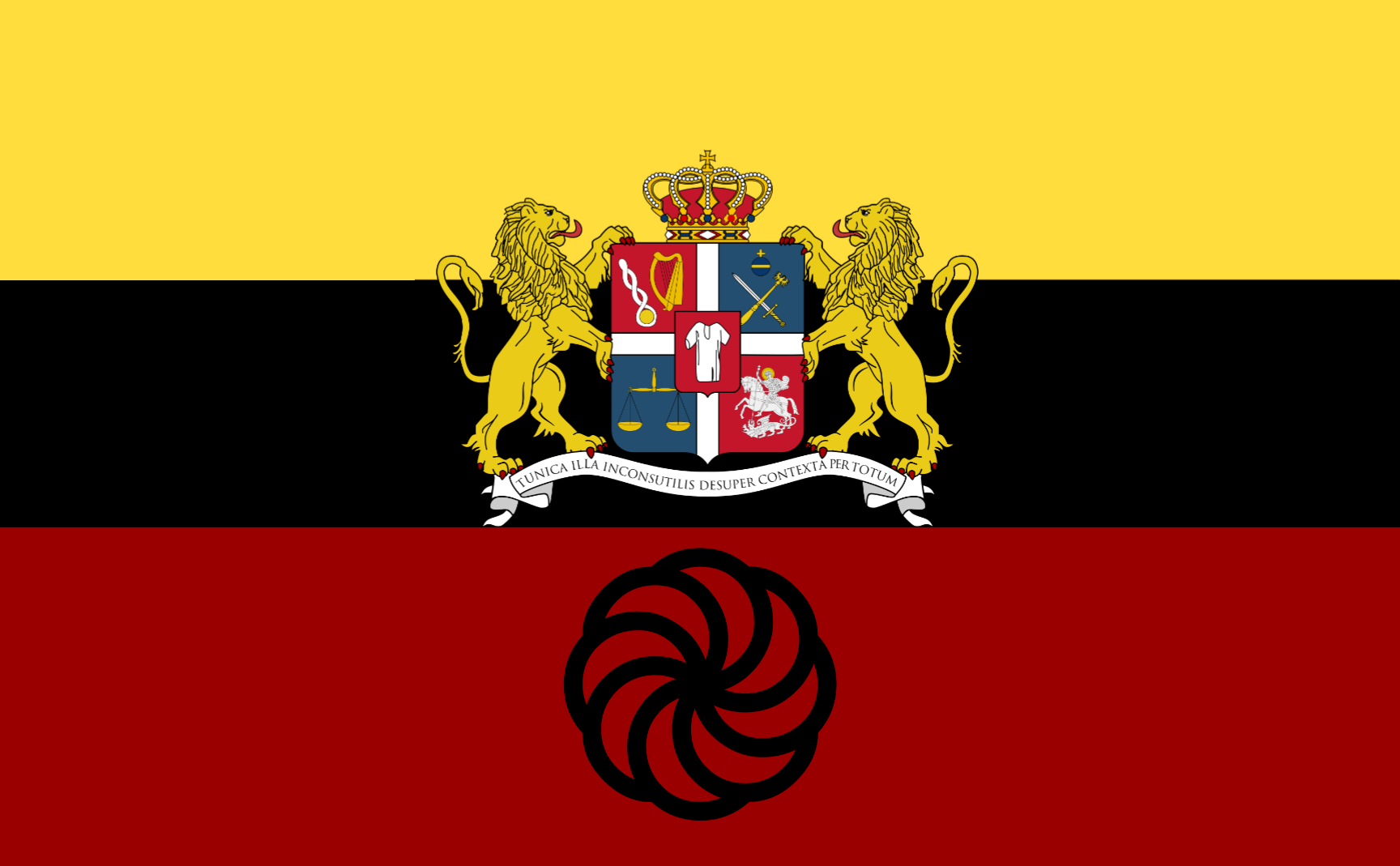 The Armenian flag must be present the following patterns: 
-2:1:2 tricolor flag comprising of the colors (from top to bottom) of yellow, black and red.
-It must bear a centralized heraldry of the Bragrationi household in the middle
-It must bear a low center symbol of Arevakhatch(Armenian Symbol of Eternity) in black 
The meaning and history of the flag:
The "Neuve-Imperiale" as it was called by it's French Inventor Devereaux d'Anjou, was created in 1863 in a nation-wide competition on which Devereaux took part in, which had the intention of standardizing the Armenian National symbol through the nation (Prior to it, there were about 63 different indentifying symbols used to refer to Armenia), Devereaux's design was the victorious one, after he had took onto himself to study and teach Armenian history as a professor in Ani.
The Central symbol is the coat of arms of the Bagrationi dinasty, the family tree that has been in charge of Armenia since the 800s, though today they only serve a cerimonial purpouse. The Latin text reads: "That tunic was woven from above without a seam"
The three main colors represent:
Yellow: Representing the Ayyubid dinasty, which has sacrificed substancial resources and members to assist the country time and time again, as well as representing the nation's Golden past and future
Black: the Oil of the fields and dark moments of the nation's history which have not been allowed to be forgotten.
Red: Signifying the shared blood of the Armenian peoples, be they Armenian truly, Georgian, Kurdish or else.
The Arevakhatch represents both the Everlasting nature of the nation as well as it's people.