For raiders
A policy of nuclear and missile weapons against raiders who have a lot to lose and ways to take losses.
But what is the point in this?
Yes, I cannot give in to weak pirate countries that are forever plundering the wealth of others. And what next?
I usually send 2 nukes to ~30 mil, spending 14 mil on nukes, but when  it comes to pirates who can't be directly harmed, it's like a zoo.
Pirates laugh at me because for them nuclear weapons and missiles are not scary and do not cause harm. And what's next? What is the meaning of this?
The total cost of the pirates' last hostilities was 10 million, besides, instead of three raids of 7.5 million profit (or at least 5 each), they fought against me. To laugh at me?...
10 + 7.5 x 3 = 32.5 million.
Why do I need nuclear weapons and missiles, if their limited brains are ready to inflict indirect harm on themselves? Yes, I have suffered damage. The total cost of destruction is half the cost of using nuclear missiles.
Therefore, if you are idiots, the warning for raiders published above does not apply to you in any way. Allow me to enjoy the fact that said pirates mostly look like Zoo.
For those who don't know, every week for the past month and a half, a zoo under a well-known name has visited me to silently laugh at my self-defense strategy. I used to try to see logic in their actions. It is very good that I was told that there is no adequate logic here.
Yes, this joke can cost me a lot.
So I suggest you buy some popcorn and enjoy the zoo throwing dung at me.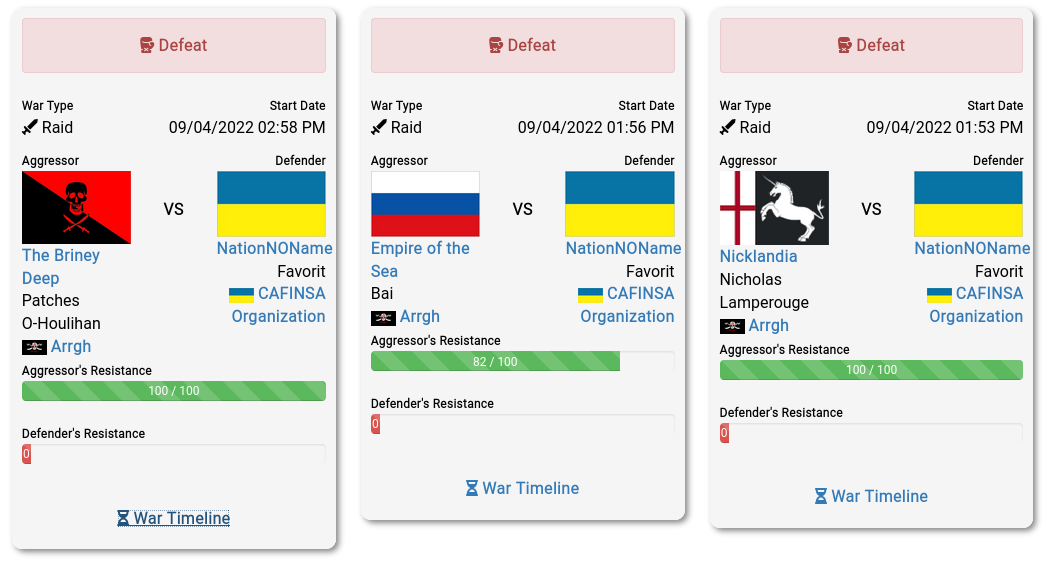 Prospect (Tax 100/100) and Withdrawal to alliesWithdrawal
If you are a beastly pirate, terrorist and barbarian - forget about your baseball tips. Even if you are not, your participation in organizations with such tendencies equates you to them.
Consequences? It's better for my cities to burn to zero than for me to pay at least a dollar to such bastards for baseball or anything else.
No information