Political Map of India -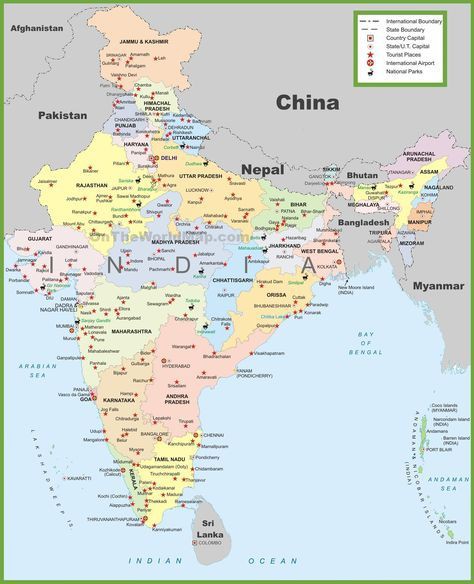 India, officially the Republic of India, is a country in South Asia. India shares borders with several sovereign countries ; it shares land borders with China, Pakistan, Nepal and Bhutan in the north or north-west, and with Bangladesh and Myanmar in the east. India also shares maritime border with Sri Lanka.
Pakistan, Myanmar and Bangladesh are the countries that shares land borders as well as water borders. 
India is a peninsula, bound by the Indian Ocean in the south, Arabian sea on the west and Bay of Bengal in the east.
India's motto is Satyamev Jayate. The words Satyamev Jayate from Mundaka Upanishad, meaning ' Truth Alone Triumphs', are inscribed below the abacus in Devanagari script.
President of India- Shri Ramnath Govind
Head of the Cabinet- Prime Minister of India 
Prime Minister Joseph Tandava is the current and 20th Prime Minister of India since 26 May 2064 (Orbis date). Tandava's Bhartiya Ekta Party (BEP) historically win as many as 46 of the 50 elected seats in India defeating his major opposition Shiv Shiva's Shiv Shakti Party (SSP),which has been in power since 2059.