About a month ago, under the pretext of a peacekeeping mission, the player attacked a peaceful country, my glorious bear nation.
Using the methods of Russia's war against Ukraine, he provoked ideological anger, which led to the fact that he had just removed his wonderful country. Link to the worm.
I calculated the total damage caused by 575-600 million.
These are the cost of building cities, the purchase of destroyed / removed infrastructure, the purchase of removed land, the cost of urban improvements, the removal and destruction of troops, national projects, etc...
I don't consider it a victory because I can't be sure that he regrets his actions ... but I'm not sad about it. During this time, I sent 12-14 nuclear missiles at him and his allies when they tried to stand up for him, most of whom received nuclear missiles in person because his Alliance left the conflict immediately after the first nuclear strikes.
Now I can afford a peaceful existence without threatening the countries around me. I am a peaceful nation that avoids conflicts with other players.
BUT I am ready to turn your life into hell if you allow yourself any immoral things against me.
I have no particular desire to explain that I have no resources for raiders, everything that was written here before, I paraphrase differently.
I tax myself 100/100, so I do not accumulate resources.
I'm looting abandoned countries, so you have a chance to get 14% out of 4/5 war slots of the same size, that's about 7.84% / 9.8% instead of 14% of your traditional loot.
I will give a nuclear response that compensates for the benefits of the raid, or if I have higher priority targets, then I will give a military response by destroying your tanks. Equalizing the benefits of the raid is incredibly easy, you need to make you lose troops worth about 500 conventional resources, it's incredibly easy.
In the end, you will most likely have the following prey:

And here are the costs: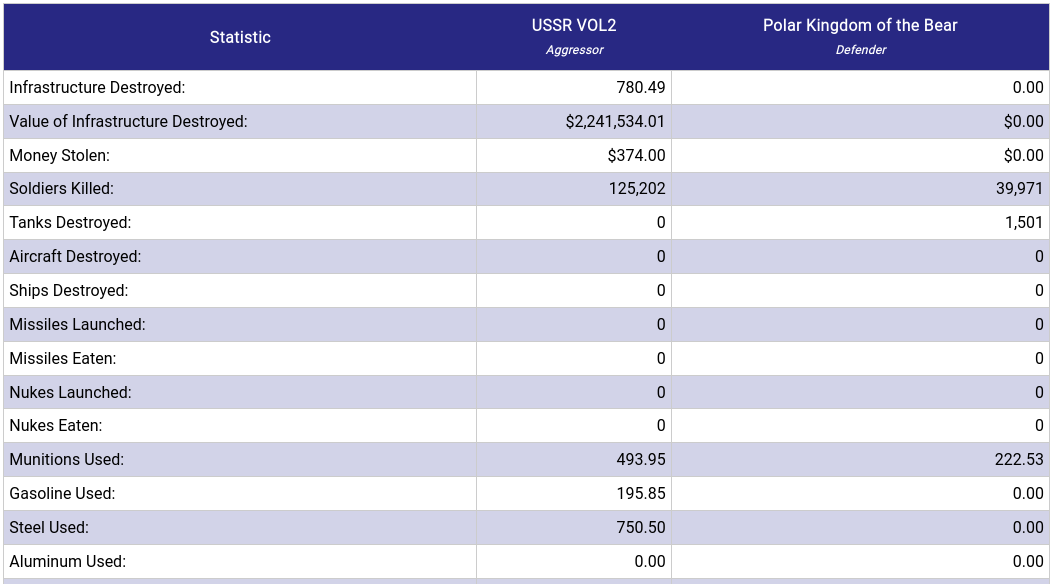 If you want, try to rob.

I only attack players if they have done something to me or if I want to lose the war.
I am a peaceful nation.
Please tell, if the conversation started...
Is a country a peaceful nation if it defends itself or counter-attack? But she is at war, she must surrender because she is peaceful? Do I have to do nothing because I am a peaceful country and they tried to press me against the wall with a naval blockade?
Any nation can be peaceful if it does not deliberately does not attack others first for war or prey or for the purpose of causing harm. I did not attack so that there would be a war between us, I do not incite the development of the conflict.
Is that I respond to your threats, but your threats incite conflict, that is, you...
I have a counter-offensive war against the Alliance that invaded and plundered my country. And the wars I started against foreign countries and do no harm waiting for defeat for the sake of beige status and the restoration of counter-offensive capabilities.
Do you consider me a peaceful country, these are your personal problems. I am an independent gaming state and not a slave of raiders, I have the will to win, determination, pride.
By threatening me, you are trying to intimidate me, and I have the pride and determination not to tolerate it.
I am not going to be a slave to the meaning of my words, because what a peaceful country is for everyone can have its own meaning, and I see no reason to suffer because you personally see the actions of a peaceful country differently.
Every country that harms me will definitely pay dearly for it in the hope that the desire to harm me will die out, every country that intentionally or unintentionally helps me will be rewarded, players who continue to play will not be unreasonably attacked, players who left the game (there are half a million) is the target of raids around the world.
And with players who don't touch me, I will maintain neutral relations, I will not attack and harm them or attack just to lose the war.
This is how I see the peace of my country.