"A wise warrior forces his enemy to fight at a time and place of his choosing."
~Crooked Arrow, Haudenosaunee elder
~~ National Anthem ~~ Executive Minister Markovski ~~ President Pelikudinovska ~~
~~ Landrov Airlines ~~ Tourism ~~
Administrative Capitol: Biljani Izvori ~~ Economic Capitol: Solun ~~ Cultural Capitol: Crkvenista 
          Despite VMRO wining the most seats in the Senate, they were not able to establish a majority coalition though neither did the opposition. Likewise, VMRO was unable to win a majority in the Assembly independently but were able to form a majority coalition government which elected the VMRO leader as President among the party heads. Regardless of not having a majority, the right-wing coalition chose their new Executive Minister from KSP since it was VMRO who held the most seats. Due to associations with national heritage, right leaning parties are red and left leaning are blue, in contrast to the traditional political affiliations of western society but the same as in the United States. The 2019 (five year) Senatorial elections tabulated a hung government (broken by the Auxiliary Prime Minister currently of VMRO) as follows, displayed based on political leaning: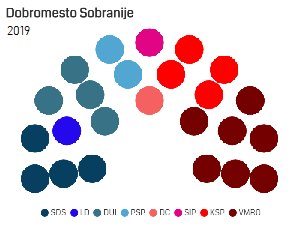 The 2021 (five year) Assembly elections resulted in the following coalition right-wing (VMRO/KSP/SIP/DC) majority arrangement: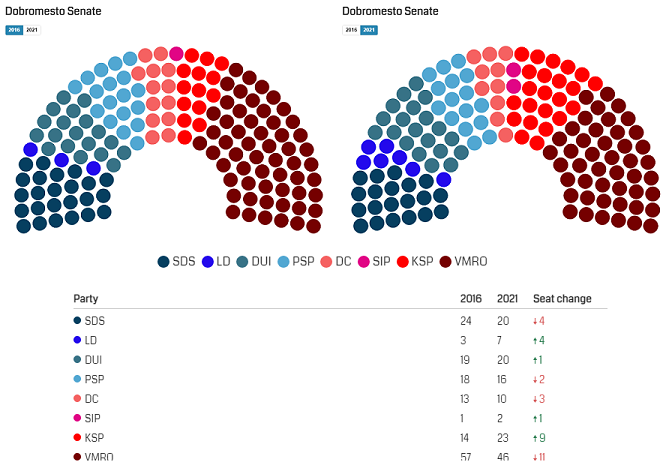 Dobromesto is a 2004 charter member of the Federated Slavic Diaspora with Croatia, Czechia, Montenegro, Poland, and Slovakia. They were soon after joined by Bosnia, Kosovo, Siberia, Slovenia, and Ukraine in 2007 as well as Crimea, Donetsk, and Luhansk in 2014. FSD has two offices in Crkvenista and Solun with a the organization's national headquarters in Solun. The organization headquarters however are in Zagerb, Croatia. Due to this collaboration, the Interslavic language is used for most internal communication both verbal and written. Bulgaria is coordinating membership accession on the condition that it renounces its claims of Dobromestan Territory and accepts that it has a shared history rather than a history that belongs to a specific individual nation as well as denouncing actions taken by previous fascist and communist governments (which Bulgaria has failed to do on both accounts). Ottoman Turkey is the Federation's most staunch advocate, especially prior to the conquering of the Hellenic Republic of Peloponnesus in 2015. FSD has provided military support to the Ukraine as well as Azerbaijan (non-member), Chechnya (non-member), Crimea, Donetsk, Georgia (non-member), and Luhansk in the ongoing eight year Russo-Donbas War.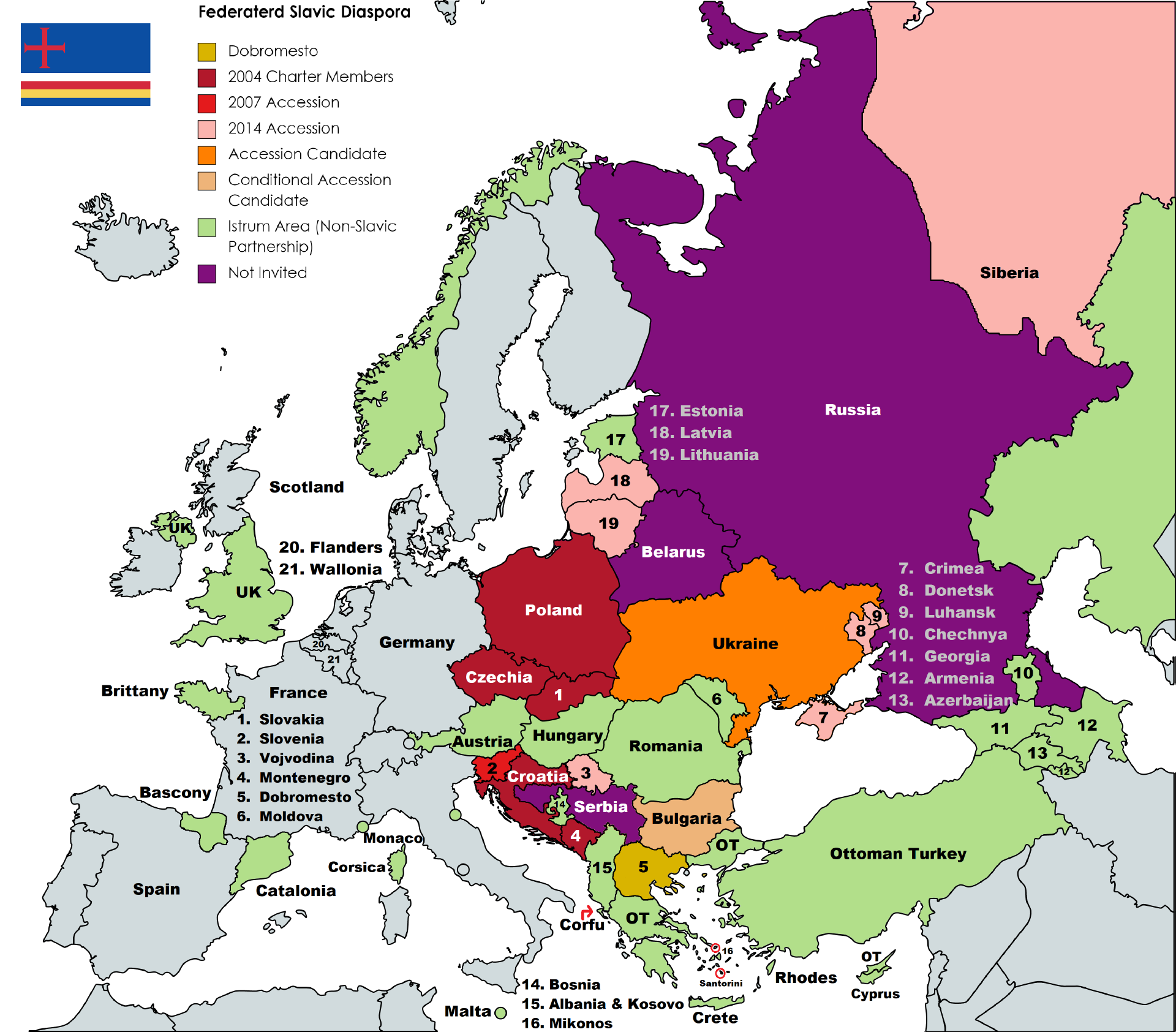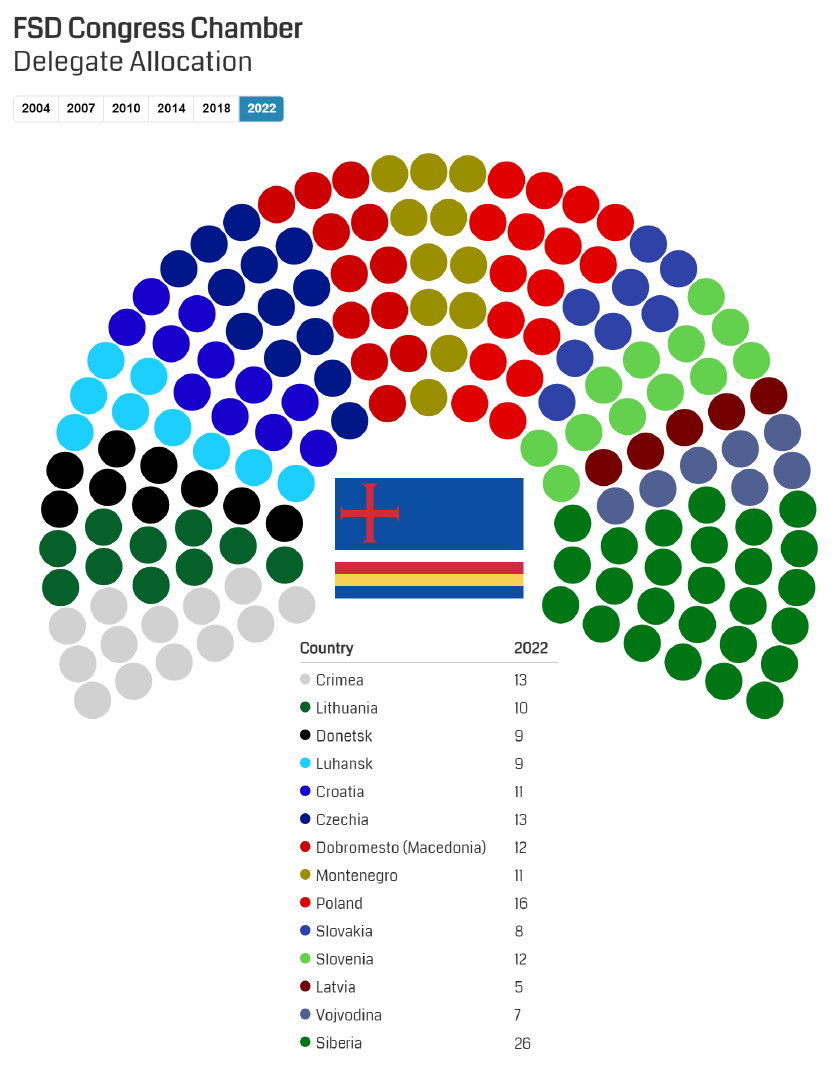 Notable cities and settlements include Crkvenista, Solun, Bitola (BEE-toll-ah), Lerin, Voden, Uporiste (Oo-POR-eesh-tah; Garrison), Slobodnica (Slo-BOD-nee-tsah; Liberty City), Prilep (PREE-lap), Debar (DE-bahr), Struga (STROO-ga), Pogradec (PO-gruh-dets), Prespa, and Krusevo (KROO-she-vo).