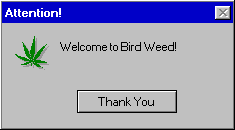 ð"˜ð"½'𓼠ð"«ð"²ð"»ð"­ð"¼ ð"ªð"·ð"­ ð"€ð"®ð"®ð"­.



Attacks will be countered by Bird Weed members. We protect our Applicants.

Bird Boss - Oh Tiniest Bird Chief Cuckoo - Captain Splendid Birdball Smasher - Ned Sexaginta Weed Farmers - Chloe Jessica, Mixoux Board of Borbs - [REDACTED] Awesome & Cute - All of us

1) In Bird Weed, we take care of each other. We tax highly, and in return, take care of all your food and uranium needs. You can receive grants if you are cool and prove yourself. 2) We like raiding and baseball. You are encouraged, though not required, to raid and/or b-ball to fund yourself. In the same vein, you are encouraged to share any excess with the alliance. 3) We don't like jerks. Don't be a jerk.


(ã£â—"â—¡â—")㣠♥ Click the Parrot to say Hello on Discord! ♥