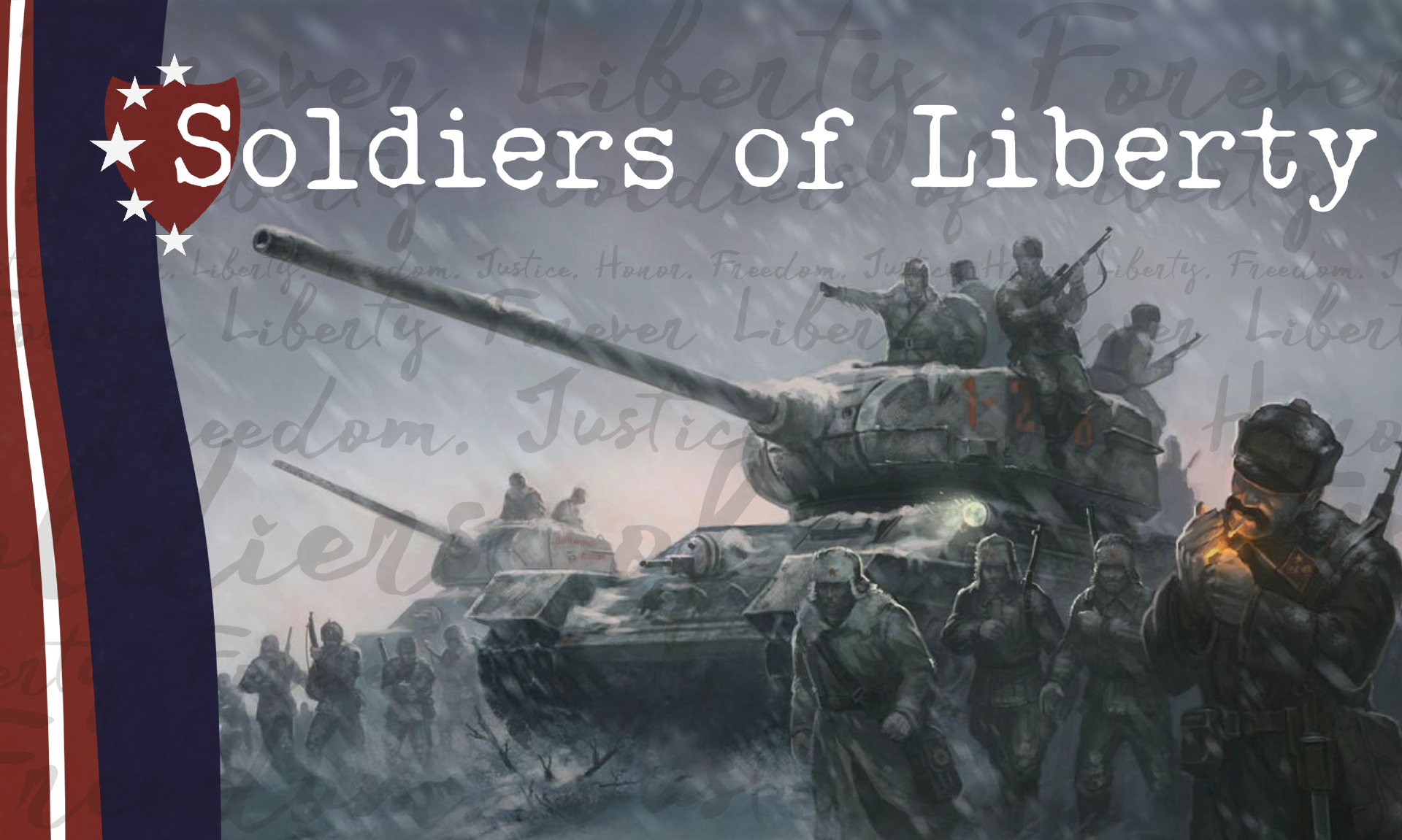 Liberty is being free from oppressive restriction or control.
To be free is not merely to cast off one's chains, but to live in a way that respects and enhances the freedom of others. It is not something to just be given, every right you claim for yourself must be given to your brother also. 
Liberty means responsibility, which is why most men fear it, but life without liberty is like a body without spirit. We fight so that we may preserve the spirit. To be a soldier is to defend the very essence of ourselves, that's what it means to be a Soldier of Liberty. 
The price of our freedom is eternal vigilance, together we must undergo the fatigues of supporting it, in order to reap its blessing. 
Our mission is to secure our home and independence, our economic freedom and safety, we shall bring peace to the world by preparing for war. 
"If you see what we see, if you feel as we feel, and if you would seek as we seek, then I ask you to stand beside us a Soldier of Liberty." - Commander in Chief

High Command
Commander in Chief Indigo
Executive Officer Hemlock

High Commissioner of Foreign Affairs Sainthunta
Financial Minister Lenny
Grand Admiral WebsterAve
Grand Provost Ecki

Low Command
  Second of Military Affairs  N/A  
Second of Internal Affairs Seal Federation
Second of Foreign Affairs  N/A
Second of Economy Creature
Senate Leader Sainthunta

Founding Member of The Perpetuals
MDoAP with The Federation
MDoAP with USSR
We believe in freedom & independence, and defending both. We do not allow raiding of our members and protect them no matter their activity. 
Any diplomatic inquiries should be directed to Sainthunta, Indigo or Hemlock


Soldiers of Liberty is open for anyone who shares the values of liberty and freedom, regardless of experience! Come join us on discord! https://discord.gg/VkZQAUJQ9y
Inactivity and unresponsiveness results in being moved to applicant!
For any help concerning applications contact our Grand Provost.
Discord use is mandatory.
"Give me liberty, or give me death!" - Patrick Henry
Si vis pacem, para bellum - If you want peace, prepare for war.